How would you consider an easy and delicious French Basque chicken recipe or 'Poulet Basquaise'? A few organized steps will bring you this flavourful dish! Make a big batch, I love it even more when it's warmed up, the flavour had time to blend together overnight, yum!
Since I have 'taught' you (well you know what I mean, I shared what I know!) on a few Youtube videos, you now have no excuse to run (safely) to the kitchen and grab your knife (still safely) and practice your new skills :) to make this delicious Basque Chicken!
My videos
Under a minute, I showed you how to effectively chopped an onion. It is so efficient that you won't have time to cry! Promised!
My favorite one is the pepper. I julienne peppers for the kids almost on a daily basis, they love to snack on this colourful sticks and It is fine by me!
BUT....
Don't be fooled... They are kids, they want chips and other snacks I don't approve of but eat while hiding #guilty!
Finally, seeding and peeling tomatoes is a few more steps but I personally like it better when there is no tomato skin. However, you can skip the seeding for this recipe, if you want. I think it is where some of the juice is so it is better.
Prepare a double batch of this French Chicken recipe
Here is a great tip for you: Double the batch of this Basque Chicken dish and freeze half or eat it all week long! Ahah why not, it is that delicious.
In all seriousness, the flavours come together and blend even better when the dish rests overnight. I really love this Basque Chicken the next day!
If you ever get leftover chicken, you should try to make these patties or chicken quesadillas. Always a hit with the kids, perfect for lazy Friday nights or lunch boxes! Win-Win-Win!
Ehehe Mom Win - Kid Win - Yummy Win! :) :) :)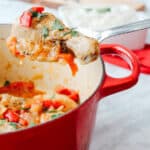 Print Recipe
French Chicken: Easy & Delicious 'Poulet Basquaise'
This delicious French chicken is full of flavours, simmered with the fruity peppers, onions and tomatoes, you will love it served on white rice.
Ingredients
15

chicken drumbsticks

750 g

2

tablespoon

flour

6

tablespoon

olive oil

1 and half

onion

diced

3

gloves

garlic

minced

2

red peppers

julienned

3

tomatoes

peeled and diced

5

cl

white wine

salt

to taste
Instructions
In a large plate, place our drumsticks and use a paper towel pat dry the meat.

Roll the drumsticks in the flour and set aside. Season with salt. 

Heat a large pan or pot (I use my Le Creuset) over medium heat. Once hot, drizzle half of the olive oil and cook the drumsticks for 4-5 min on each side. Once cooked, set aside in a plate. Cover loosely with some aluminium foil.  

Heat the same pan or pot over medium heat. Once hot, drizzle the rest of the olive oil and sauté the onion and garlic. Deglaze with the white wine and let it reduce by half. 

Let it cook for 15-20 minutes on low so the flavours come together.

Add the chicken drumsticks and let it cook on low for another 15-20 minutes.

Serve with some rice. Bon Appétit!
Notes
It tastes even better the next day as the flavours have come together!
petitporcini.com
Nutrition
Calories:
854
kcal
|
Carbohydrates:
9
g
|
Protein:
54
g
|
Fat:
66
g
|
Saturated Fat:
16
g
|
Polyunsaturated Fat:
12
g
|
Monounsaturated Fat:
32
g
|
Trans Fat:
1
g
|
Cholesterol:
300
mg
|
Sodium:
276
mg
|
Potassium:
915
mg
|
Fiber:
2
g
|
Sugar:
4
g
|
Vitamin A:
2051
IU
|
Vitamin C:
61
mg
|
Calcium:
44
mg
|
Iron:
3
mg