This Almond Flour Chocolate Cake is made with simple ingredients and is the perfect decadent, moist and delicious dessert for almond lovers. Ready in no time, it will satisfy your craving. This is the perfect quick and easy gluten-free dessert to indulge.
If you have try my Flourless Almond Cake, or 'Amandier' in French, you will also love this version with dark chocolate. Almond flour gives the perfect nutty taste and I'm here for it. If you are all about the chocolate, you should also try the lava cake or the French chocolate tart.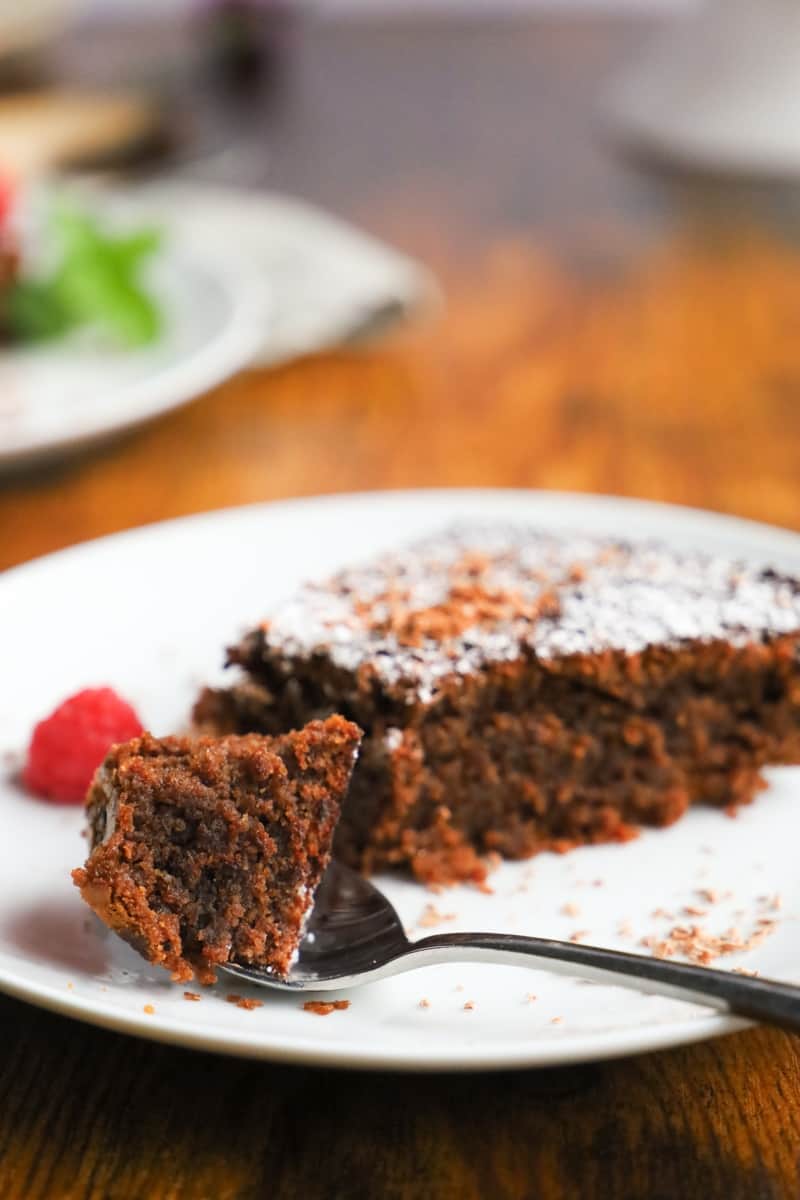 Jump to:
🥣 What Do You Need
The steps to baking this cake are really simple and take little time. It is low carb and you can adjust the sugar to your liking.
The ingredients needed for this chocolate almond cake recipe are most likely in your fridge and pantry:
- eggs, medium size
- butter, I use salted but unsalted works too
- granulated sugar
- dark chocolate chips
- almond flour
In terms of utensils, you will need:
- a large mixing bowl
- a whisk
- an 8 inch round cake pan
👩🏻‍🍳 How To Make The Cake
Let's start, it will be ready in about 30 minutes!
First, pre-heat in the oven. In a large mixing bowl, whisk the eggs and the sugar together until the yellow colour lightens. It will still be yellow-ish but a tone under. Add the blanched almond flour and stir until fully incorporated. There are no other dry ingredients.
Then, you need to melt the butter and chocolate together. You can either do so on ''bain-marie'' which is a water bath or in the microwave.
BAKING NOTE: What is bain-marie is a French term used to describe the water-bath technique. It consists of using 2 pots, one larger with about 3 or 4 inches of water and a smaller one with the butter in that instance. It will allow melting or warming up something without burning it.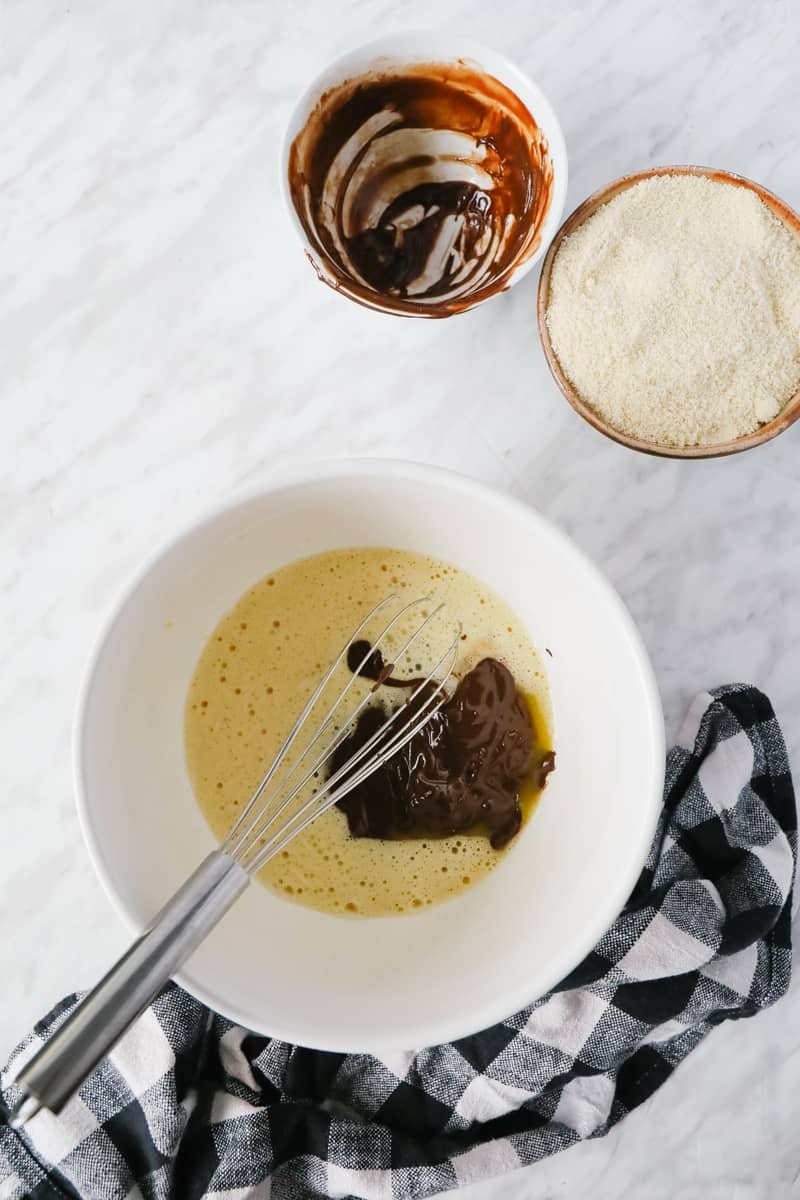 Now, let's prepare your oven dish for your almond chocolate cake. You can either cover it with parchment paper or butter it and dust it with some regular cocoa powder if you have. It will prevent it from sticking if you have cake pans that tend to. This recipe is for an 8 inch round cake as I like to show some height to this chocolate and almond cake.
Lastly, put it in the oven for 20 minutes or when your knife comes out dry. Depending on your oven, you might want to add another 3 minutes at a time until it's done. Mine is quite strong so 20 minutes are enough for this gluten free chocolate cake.
Once cooked, let it cool to room temperature before enjoying it (I do love warm cakes though!)
TIP: If you bake a lot and particularly almond flour recipes, I suggest to buy it in bulk. This will be the best bang for your buck! I really love this one because it is super fine and if you want to make French macarons, this is the perfect one! I buy this one on Amazon (affiliate link)
💭 FAQ
Are Almond Flour And Almond Meal The Same?
Yes! It is for both finely ground almonds. You can say either, I even say ground almonds sometimes. There are all valid. It can be blanched which means the skin of the almonds has been removed before or turned into the flour with the skin on (unblanched).
Can You Use Almond Flour For Cakes?
Absolutely, this almond flour chocolate cake recipe is the proof, and this one best flourless cake too. Almond flour is a great alternative to cakes and cookies as it gives a different and delicious flavour.
Almond flour is also a great alternative if you follow a gluten-free diet, keto, or paleo. This recipe is not keto or paleo though because there is sugar (and it is not dairy-free for the paleo's).
Can I use almond flour instead of cake flour?
Not for all the recipes. Almond flour is a nut ultimately and therefore, a fatty body in your cake mix. This recipe, in particular, has been developed to be flourless for a moist and tender cake. Some recipes are meant to be prepared with cake flour as the gluten is necessary for it.
Can I Prepare This Chocolate Almond Flour Cake In Advance? How Can I Store It?
I would recommend making it for the day of or the day before maximum. If you do, store it in an airtight container at room temperature.
However, if you make it a few days ahead, I would suggest freezing the cake once baked and cooled down. It will allow keeping its moisture.
More Almond Flour Recipes:
-The best flourless almond cake: You liked this recipe but would like a version without chocolate? I have you covered with one of the most popular recipes on the blog
-Have you tried putting almond flour in your brownies? These fudgy almond flour brownies are from another world!
-Also, make simple almond flour shortbread cookies, literally the best ever.
-Do you want to see more recipes with almond flour? I created a highlight, have a look!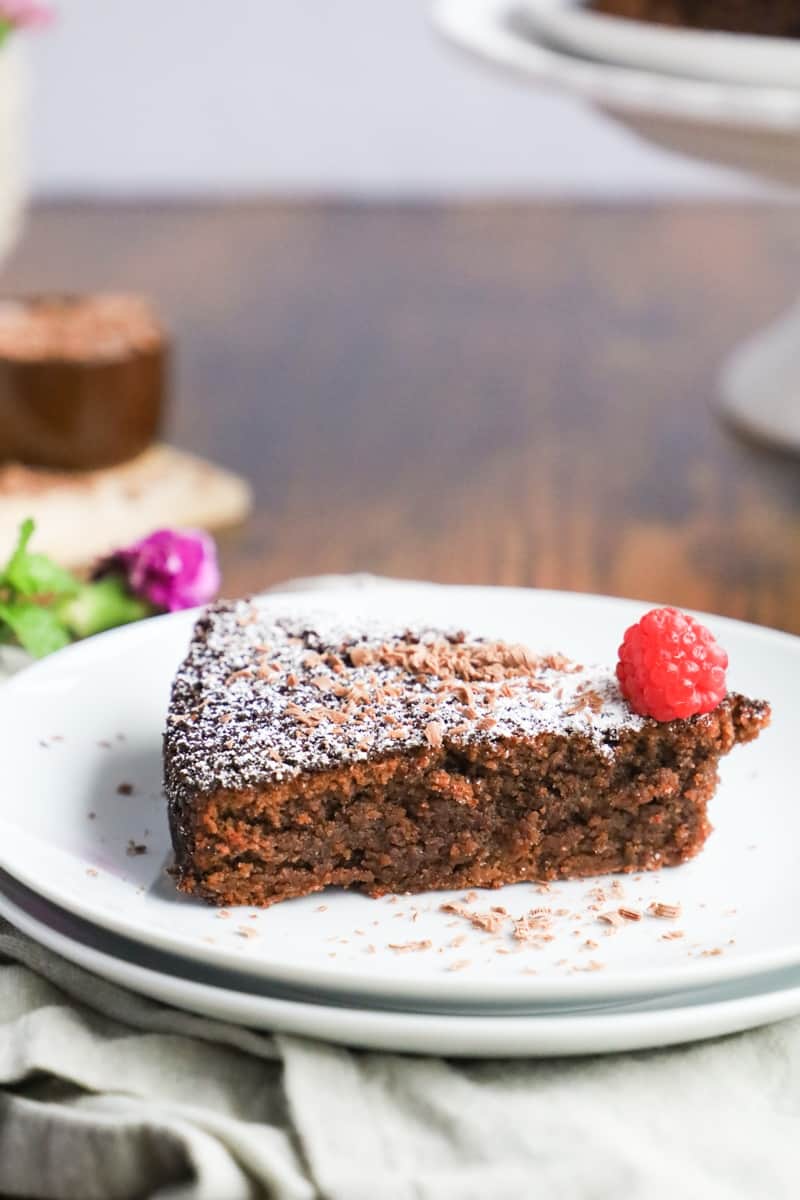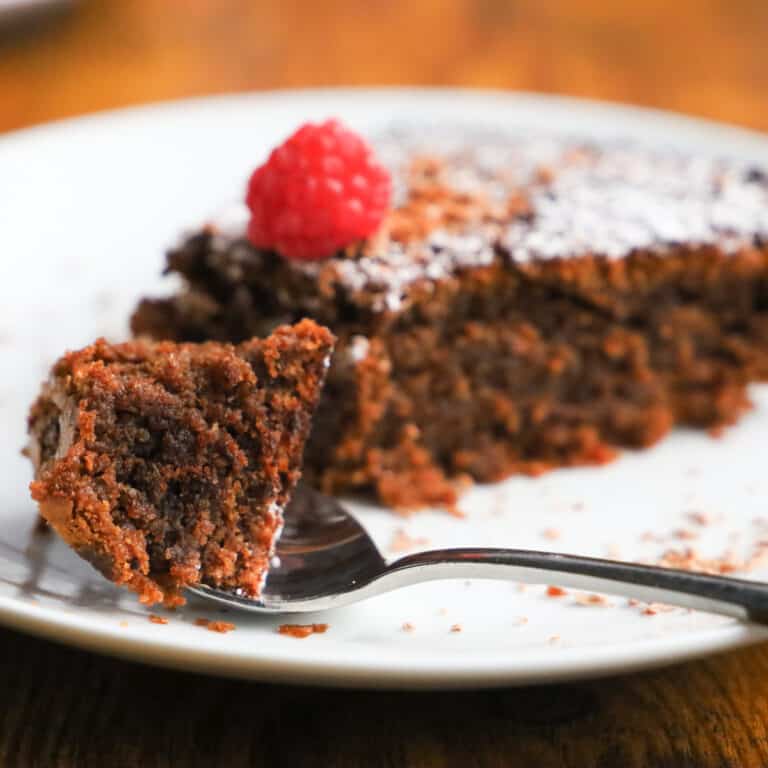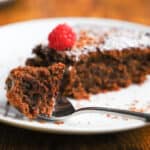 Print Recipe
Super Decadent Almond Flour Chocolate Cake
This almond flour chocolate cake is made with simple ingredients & is the perfect decadent, moist and delicious dessert for the almond lovers.
Ingredients
4

eggs medium

¾

cup

white sugar

2

cups

almond meal

½

cup

butter

1

cup

dark chocolate, unsweetened

1

pinch

salt
Instructions
Pre heat the oven at 425F.

In a bowl, whisk the eggs and sugar until fluffy and it whitens.

Add the almond meal and mix some more.

Melt the butter with the chocolate on a water bath or 15 seconds at a time in the microwave. Add it to the mixture with the pinch of salt.

Butter your baking dish if necessary and pour in the mixture.

Bake for 20 minutes or until your knife comes out clean when you poke the middle of the cake. Add 3 minutes at a time if needed.

Allow to cool before serving. Enjoy!
Nutrition
Calories:
428
kcal
|
Carbohydrates:
40
g
|
Protein:
11
g
|
Fat:
29
g
|
Saturated Fat:
10
g
|
Polyunsaturated Fat:
1
g
|
Monounsaturated Fat:
5
g
|
Trans Fat:
1
g
|
Cholesterol:
83
mg
|
Sodium:
54
mg
|
Potassium:
51
mg
|
Fiber:
6
g
|
Sugar:
30
g
|
Vitamin A:
144
IU
|
Calcium:
89
mg
|
Iron:
1
mg
Did you make it? Share it and tag me on Instagram @bonappeteat