Delicious and ready in no time, this flourless almond cake has a moist and chewy inside and crispy outside. Topped with golden sliced almonds, this is a perfect quick recipe that is also absolutely yummy!
How something so simple to prepare can be so elegant and irresistibly tasty?
This easy recipe for the almond cake is also called ''Amandier'' in French which means almond tree. If you are a lover of anything almond, this is absolutely a dessert for you.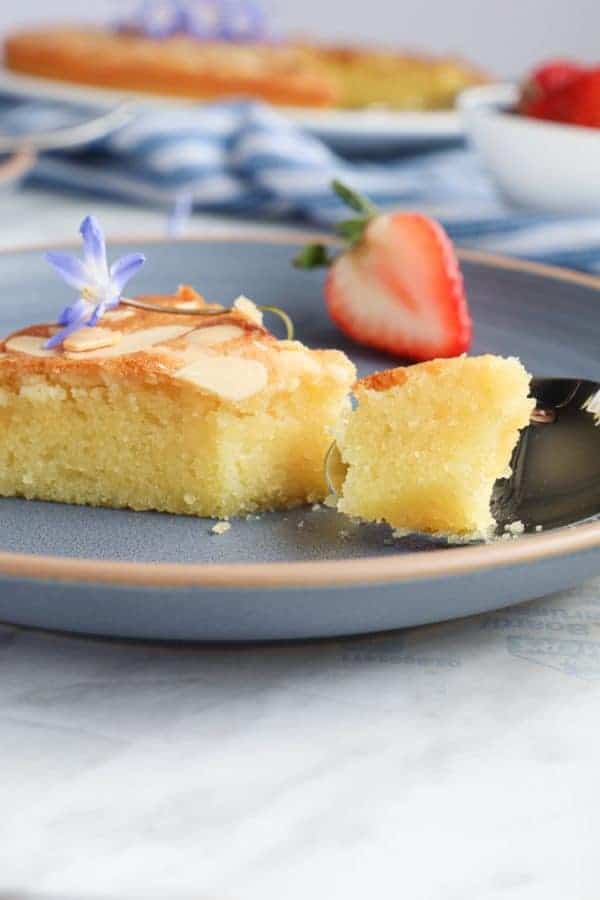 CALLING THE ALMOND LOVERS! If you click around on my blog, you'll notice I'm an all-time 'almond anything' lover!
Listen. This is serious.
If you love marzipan, French macarons, almond cream, you'll be obsessed with this almond cake. It is too good for words and you will have to trust me and bake it. Also, it is quite simple...
Look at my pear tart with French almond cream, my red currant and almond mini pies or my cutest strawberry pies.
How To Make An Almond Cake From Scratch?
Not only this recipe is simple, but it also requires 5 ingredients that you probably have at home or should add to your grocery list asap!
There are only a few steps and if you wish and if you have kids, this is a kid-friendly recipe. Easy as 1, 2, 3, literally. Check my steps, I don't lie :).
Pre-heat the oven to 405F. Grease your pan, I used an 8-inch one.
- #1: Whisk the eggs and the sugar until the color lightens and the mix is fluffy.
- #2: Add the almond meal and the vanilla extract.
- #3: Melt the butter and pour it into your mixture! Combine.
Butter your oven dish if necessary and bake for 20 minutes! DONE!
Are Almond Flour And Almond Meal The Same?
Yes! It is for both finely ground almonds. You can say either, I even say ground almonds sometimes. There are all valid. It can be blanched which means the skin of the almonds has been removed before or turned into flour with the skin on (unblanched).
TIP: If you bake a lot and particularly with almond meals, I suggest buying it in bulk or at Costco. This will be the best bang for your buck! I really love this one because it is super fine and if you want to make French macarons, this is the perfect one!
What Are Some Tasty Ways To Use Almond Flour?
As an almond lover, I have you covered when it comes to recipes including it.
Red Currants and Almond Mini Pies
Mini Strawberry Pies with Almond Cream
Berry Crumble (using almond flour)
More Almond Flour Recipes
Print Recipe
Best Flourless Almond Cake
This delicious flourless almond cake has the moist and chewy inside and a crispy outside. Topped with sliced almonds, it's a perfect quick recipe!
Ingredients
4

eggs

medium

¾

cup

white sugar

2

cups

almond meal

1

teaspoon

vanilla extract

½

cup

butter

1

pinch

salt

1

handfull

sliced almond
Instructions
Pre-heat the oven at 400F.

In a bowl, whisk the eggs and sugar until fluffy and it whitens. Add the vanilla.

Add the almond meal and mix some more.

Melt the butter. Add it to the mixture with the pinch of salt.

Butter your baking dish if necessary and pour in the mixture. Sprinkle the almond slices.

Allow to cool before serving. Enjoy!
Nutrition
Calories:
274
kcal
|
Carbohydrates:
26
g
|
Protein:
9
g
|
Fat:
17
g
|
Saturated Fat:
2
g
|
Polyunsaturated Fat:
1
g
|
Monounsaturated Fat:
1
g
|
Trans Fat:
1
g
|
Cholesterol:
83
mg
|
Sodium:
52
mg
|
Potassium:
53
mg
|
Fiber:
3
g
|
Sugar:
21
g
|
Vitamin A:
144
IU
|
Calcium:
89
mg
|
Iron:
1
mg
Did you make it? Share it and tag me on Instagram @bonappeteat