It is raw, it is vegan, it is peanut-free, it is gluten-free, it is dairy free, it is for YOU!
As I was telling you, we indulged a lot during our vacations.  When you come back from a holiday break, your body is totally off and so is your appetite.  At least for me.  I am hungry earlier and my stomach is calling for more food!
Aaaand here comes my little healthy bites. Look at those guys. It has raisins, sunflowers seeds, spiced up with cinnamon and the crunch of popped quinoa!
Don't you want to steal one? Or 2? I am telling you, there are addictive!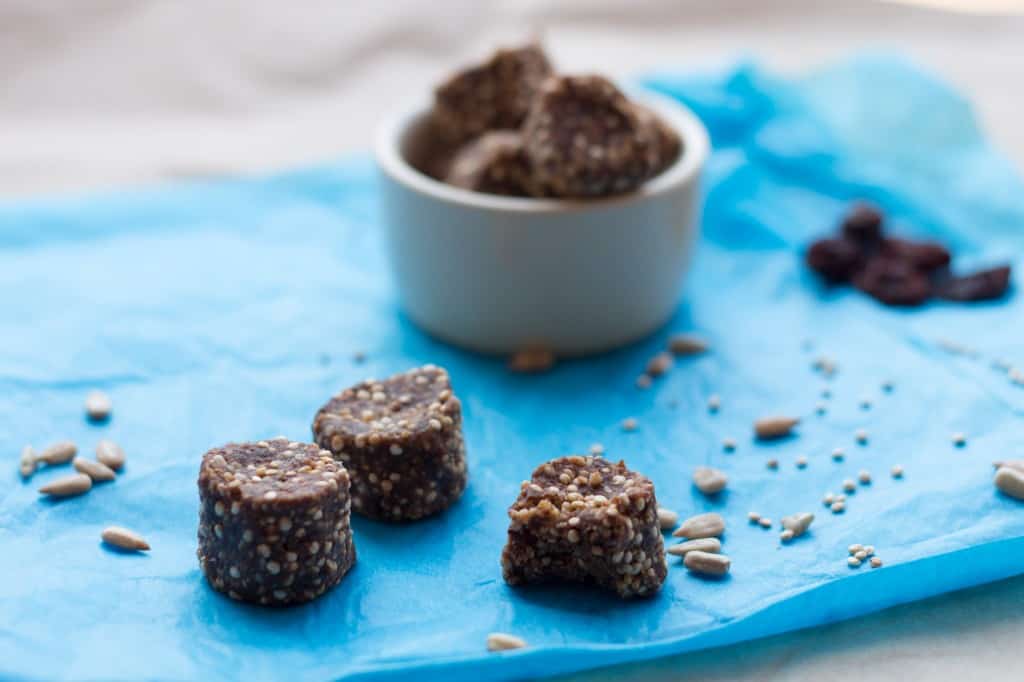 I just told you about popped quinoa, it is such a perfect find! I make a little jar to always have some, I added some in my yogurt, salads, and now those bites. You HAVE to try it!
Print Recipe
Healthy energy bites
Ingredients
½

a cup of raisins

½

a cup of sunflower seeds

½

a teaspoon of cinnamon

¼

a cup of quinoa
Instructions
Put a pan on the stove, once it is hot enough, pour the quinoa on it, in the next 5 seconds, it will start to pop and turn gold. Remove from the heat then and allow to cool. (if you have a doubt that the pan is hot enough, just throw a pinch of quinoa to see if it is popping.

In a food processor, put your raisins and sunflower seeds and process until nicely broken down.

In a bowl, mix the raisins-sunflower seeds mix with the cinnamon, then add the quinoa.

Form little bites with the palm of your hands until all the preparation is all used up.

Keep in a dry place in a hermetic box.