Buttery delicious crust with a layer of fresh strawberries topped with some crunchy crumble, the recipe of this strawberry crumble bar is so scrumptious. The sweet and juicy strawberries are calling your name. Make this easy dessert asap, it takes less than 30 minutes to put it together!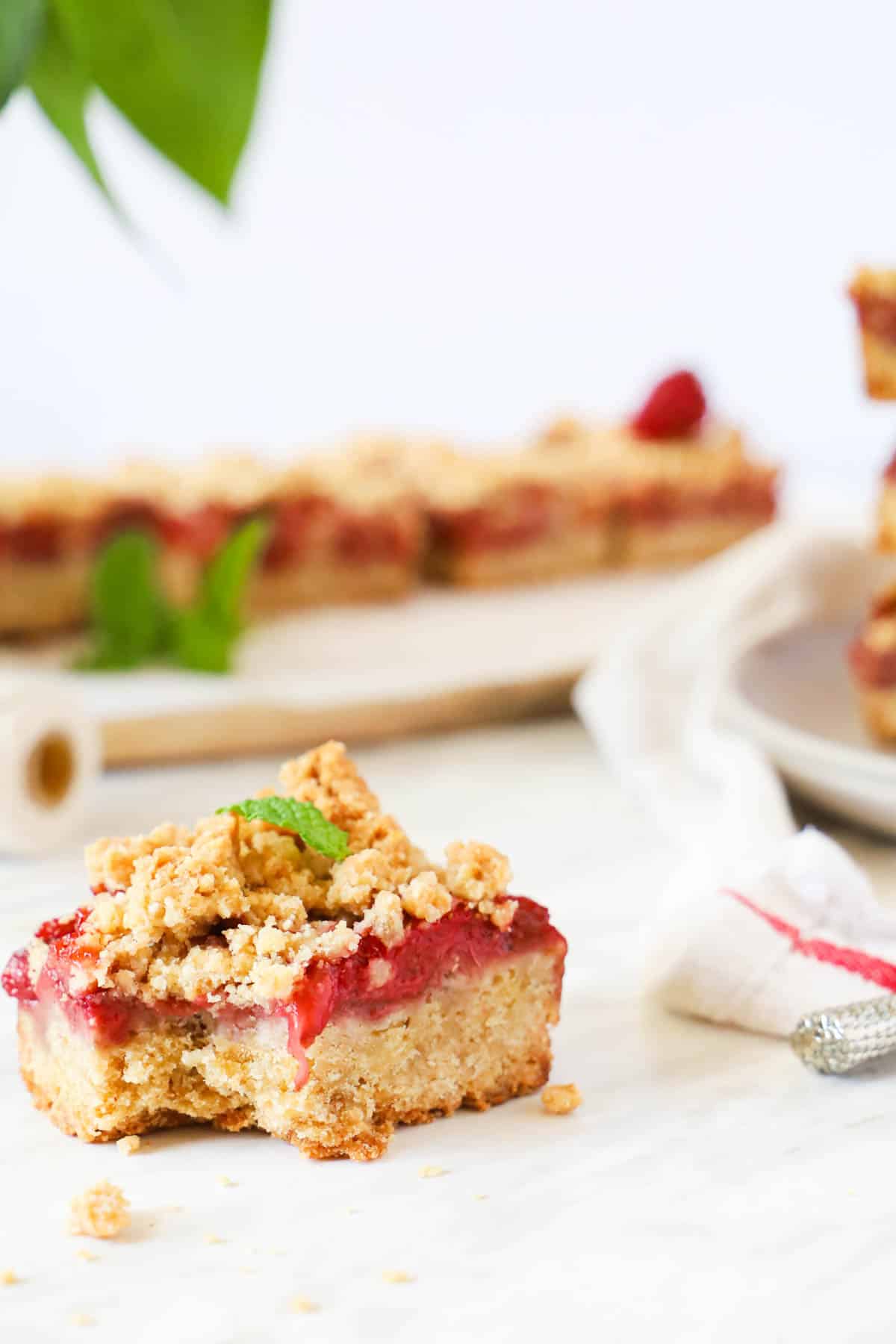 This is a great recipe to have in your repertoire. I have more easy strawberry desserts on the blog such as my berry crumble, my mini apple and strawberry almond flour crumble or my strawberry shortcake tart. If you are up for a little challenge, you should consider baking these mini strawberry pies with almond cream and pastry cream.
Above all, this is a perfect dessert or treat to bring to a potluck, summer picnic, or get-together. Having these little squares ready for grabs makes a great addition to the sweet table.
Jump to:
Why you will love these strawberry crumble bars:
SIMPLE ingredients
EASY to prepare
CRUNCHY topping
DELICIOUS strawberries
🥣 Ingredients Needed
My secret: I love preparing something pretty but simple that will impress your guests. The buttery crust and the crunchy crumble on top are actually the same dough!
Let's gather the ingredients and measure them before starting to bake. It makes the process smoother!
All purpose flour
Baking powder
Cold butter
Eggs, medium size
Brown sugar
Vanilla extract: can be skipped or replaced with any other extract such as almond or lemon
Fresh strawberries
Granulated sugar
Cornstarch: to help thicken the strawberry jam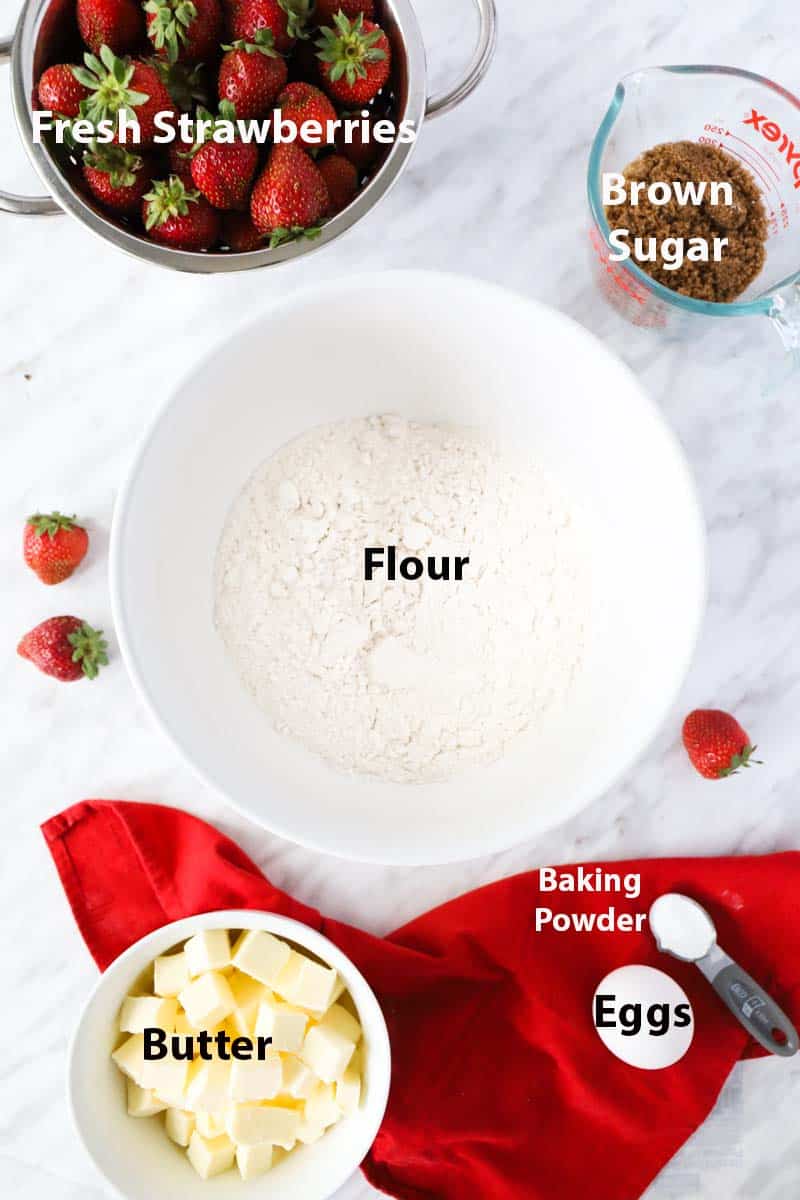 In terms of utensils, you will need:
a mixing bowl
a medium-size pot
a rectangular oven dish
👩🏻‍🍳 Preparation
First things first, prepare the dough. You will need simple ingredients that you most likely have in your pantry and fridge. Take some brown sugar, baking powder, flour from your cabinets, and eggs and butter from the fridge.
One bowl and a few ingredients make it really simple.
All there is to it is to mix the butter, flour, baking powder, and brown sugar together. If you have a pastry cutter, use that, otherwise, a fork and some elbow grease will do the job. Work the mixture until it looks like the picture above. Also, if you have one, a food processor could also be a great tool but make sure to just give a few pulses at a time. Add the beaten eggs and set this crust aside.
The butter should be cold from the fridge so you can achieve this result. Soft or melted butter will change the texture of the dough. This is not what we need! Refrain from using your hands as the warmth of it will melt the butter.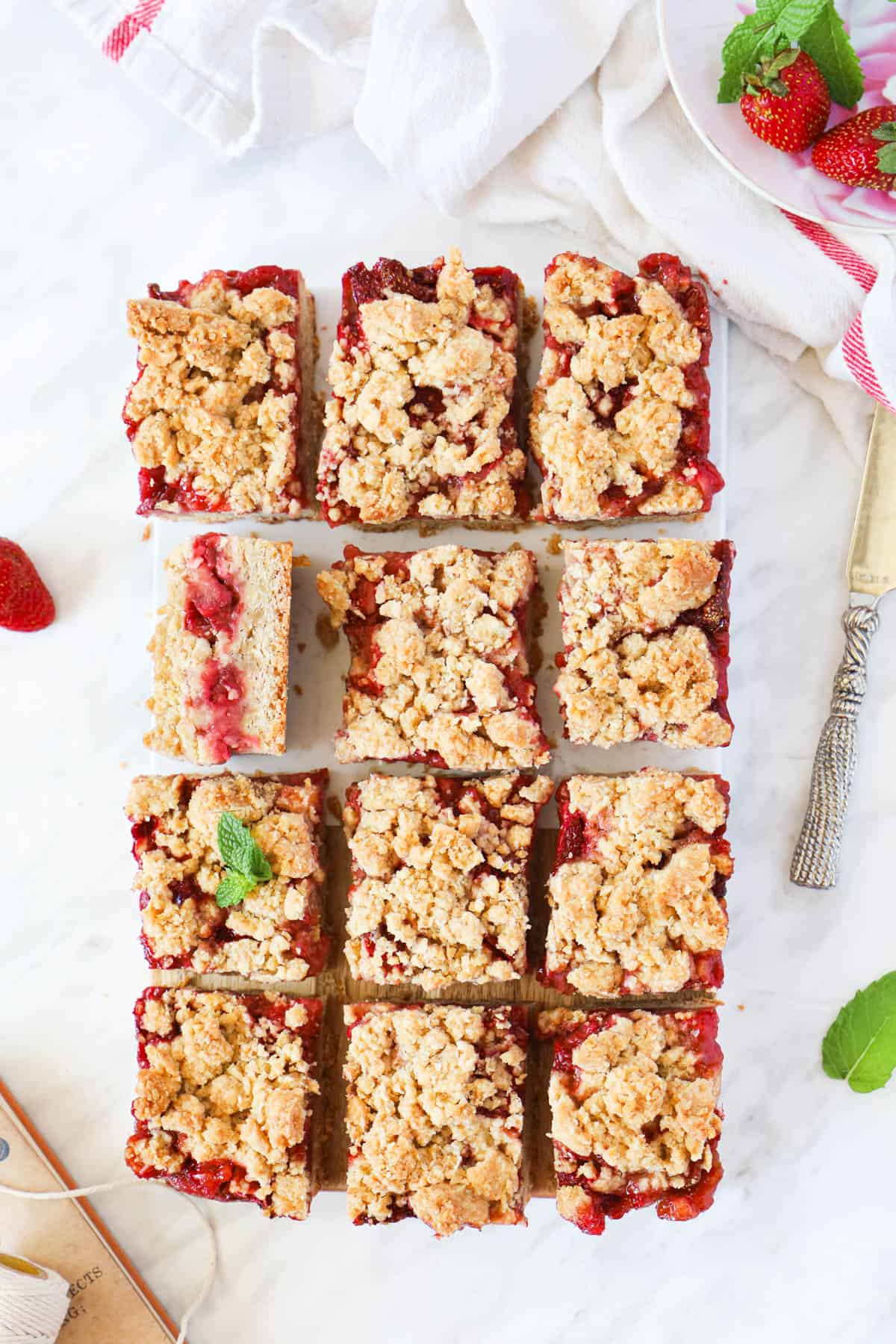 From this batch of dough, set aside about 2 cups of the mixture. It will be used for the crumb topping.
In an ovenproof dish (mine is 7x11), place some parchment paper and using your hands you will spread evenly and push in the dish to form your base crust.
The fresh strawberries: Let's take care of these babies by washing them thoroughly. Cut the stem and place them in a bowl. Toss them with some granulated sugar and the cornstarch.
The combination of these ingredients will allow for the strawberries to give a jam-like texture but not too runny. Just perfect!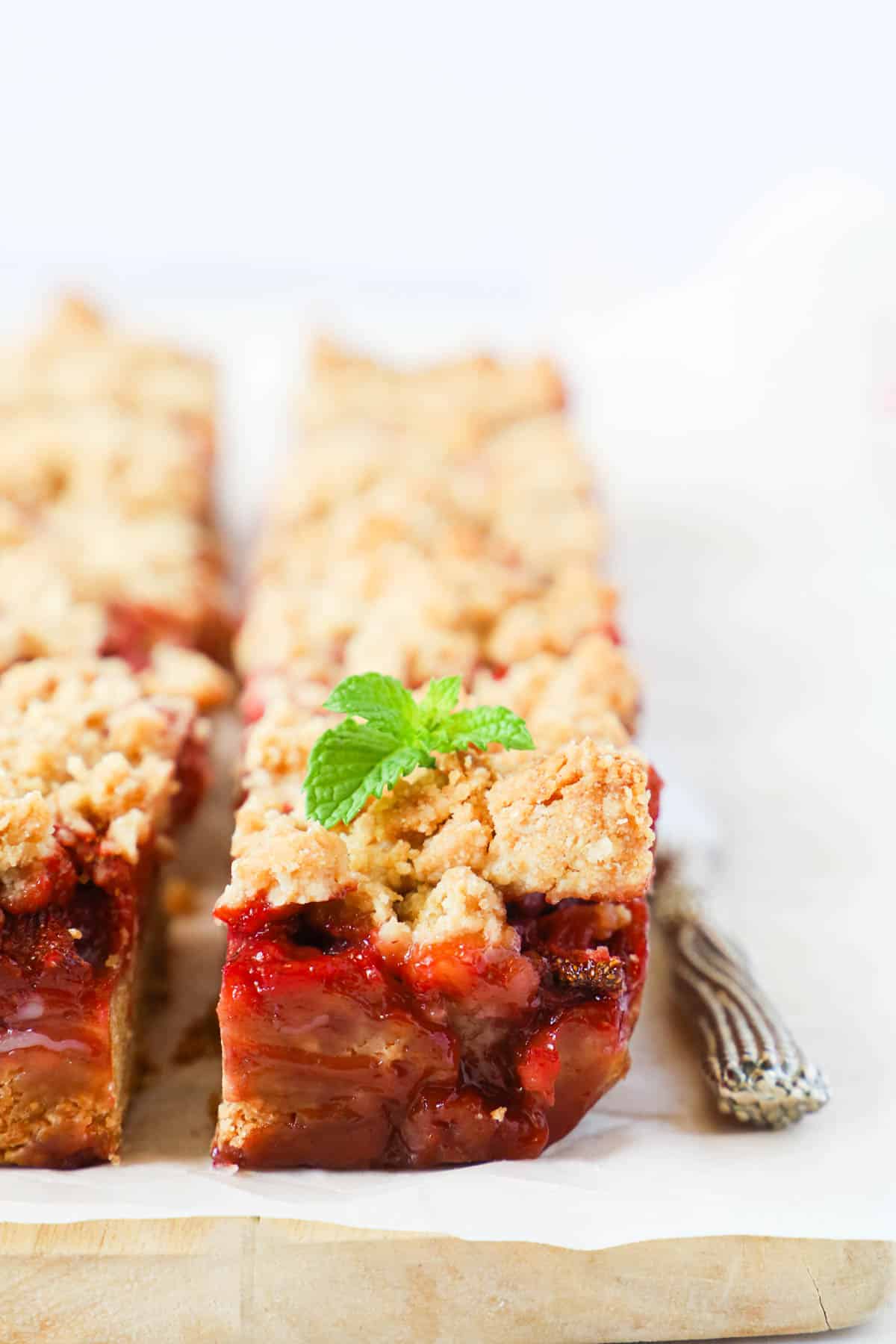 Finally, you are almost done! Spread the strawberries evenly on the crust. Now take the crumb crust you had set aside and spread it over.
2 important things left to do:
Baking it.
Waiting for it to cool completely! Ahah this part is the most difficult step of the recipe!
Can I Use Frozen Strawberries To Make the Crumb Bars?
The strawberry filling is easy and important. My main recommendation would be to use fresh strawberries and alternatively another fresh fruit.
However, if you only have frozen strawberries to make these bars, and you are craving them, go ahead. But, be aware that the bottom crust might be a little soggier as the frozen fruits will release more moisture.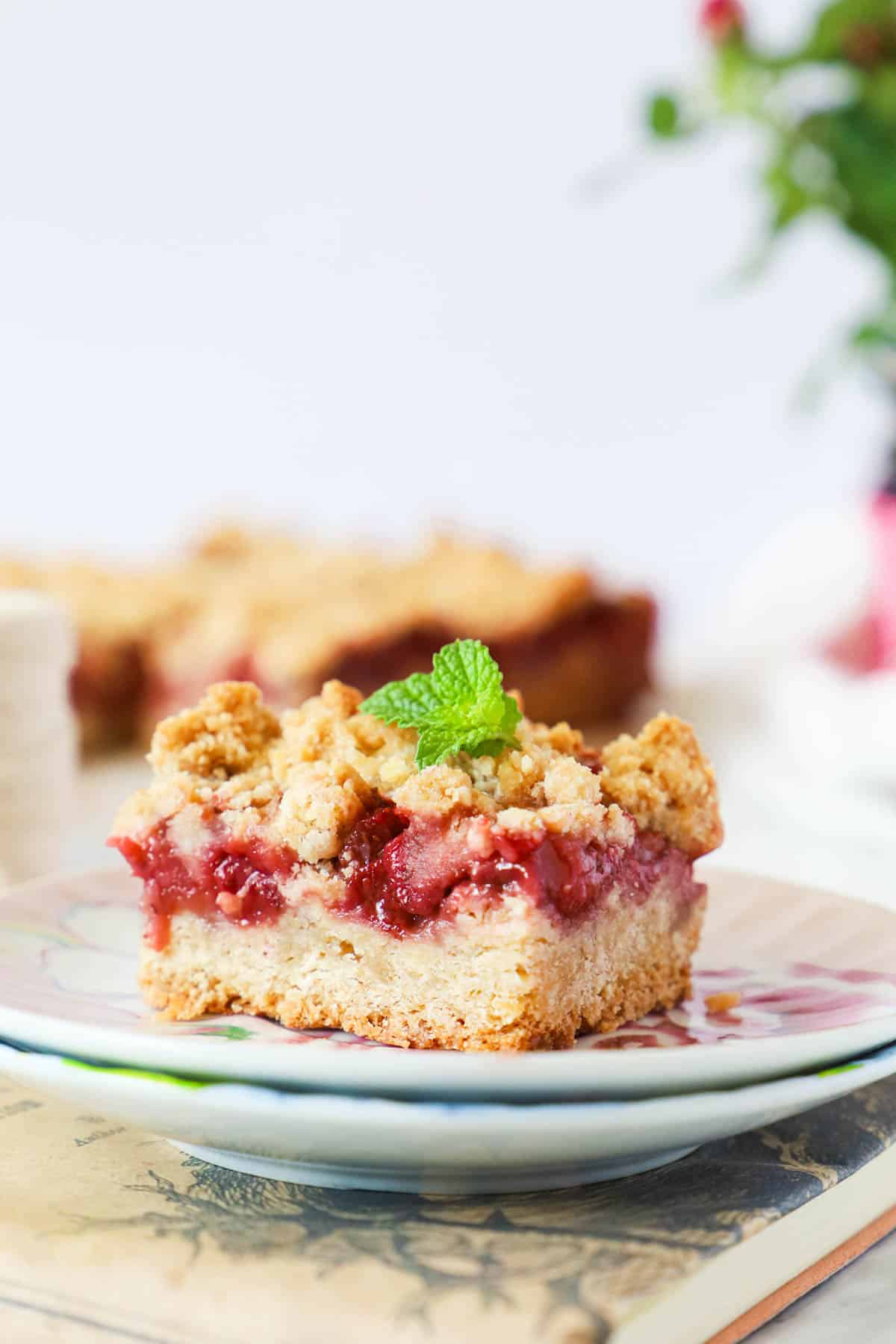 More delicious bars:
- Decadent Zucchini Chocolate Squares
A Few Last Tips Before Baking
- Read the whole recipe card but also refer to my comment in this article. I test and spend time explaining to make sure you get exactly the results I got.
- Fresh strawberries are my first recommendation and choice. You may use frozen ones but be aware if will be more juicy but delicious nonetheless. If you are thinking of using jam, you will get a sweeter result.
- WAIT: Your strawberry crumble bar needs to be completely cooled down before you cut it into squares.
- HAVE FUN AND ENJOY!
More fruity desserts
This recipe is easy with simple and fresh ingredients. All test tasters approved without any hesitation.
Print Recipe
Strawberry Crumble Bar
Buttery delicious crust with a layer of strawberries topped with some crunchy crumble, this strawberry crumble bar is so scrumptious.
Ingredients
2

cups

flour

1

teaspoon

baking powder

1

cup

butter

cold

2

eggs

medium size

¾

cup

brown sugar

1

teaspoon

vanilla extract

1

pound

strawberries

¼

cup

granulated sugar

1

tablespoon

cornstarch
Instructions
Pre-heat the oven at 400F.

In a bowl, pour the flour, baking powder, the brown sugar and the cold butter.

Using a fork or a pastry cutter, bring the mixture to a crumble.

In a small bowl, whisk the 2 eggs. Add then to the crumbly mixture. Do not over work it.

In a rectangular oven dish, place some parchemin paper.

Take your dough and set 2 cups aside. Now, with your hands, push the dough evenly in the dish to form the base. Set aside.

Wash and remove the stem of your strawberry. Cut them in half and pour them in a bowl.

Pour the granulated sugar on your strawberries, the vanilla extract and the corn starn. Toss well.

Pour your coated strawberries onto your crust in the dish. Spread them evenly.

Take your 2 cups of crumble you have set aside and spread it on the strawberries.

Bake your strawberry crumble bar for 30 minutes at 400F.

Once baked, allow to cool completely before slicing, otherwise, it would fall apart.
Nutrition
Calories:
183
kcal
|
Carbohydrates:
38
g
|
Protein:
4
g
|
Fat:
2
g
|
Saturated Fat:
1
g
|
Polyunsaturated Fat:
1
g
|
Monounsaturated Fat:
1
g
|
Trans Fat:
1
g
|
Cholesterol:
29
mg
|
Sodium:
72
mg
|
Potassium:
136
mg
|
Fiber:
1
g
|
Sugar:
20
g
|
Vitamin A:
77
IU
|
Vitamin C:
22
mg
|
Calcium:
67
mg
|
Iron:
1
mg
Did you make it? Share it and tag me on Instagram @bonappeteat