Cheese and garlic pull-apart bread is the recipe you will have on repeat this summer! Picnic, potluck, bbq with friends, dinner in the backyard, or requests from friends, all the excuses will be great to show off your new favorite most appetizing recipe!
I already made this cheesy pull-apart bread about 4 times in the last 2 weeks, mostly on requests! It's so addictive when it is just out of the oven, your batch won't last more than 10 minutes (true story)!
Remember when I made it to some friend's house over an hour late? Well, this cheesy pull-apart bread did the trick! Late? What late? It's delicious and the most appetizing bread time! 
Easy Appetizing Cheesy Bread
If you own a Kitchenaid or any stand-up kitchen mixer, making this bread is quite effortless. The ingredients needed to execute this recipe are most likely in your pantry. 
Once you have activated your yeast, add some olive oil, milk, and flour progressively. Let the magic hook do the job for you. Grab a coffee and relax!
Then, allow the dough to rest for 20-30 minutes, it will rise and double in size.
Are you done sipping your coffee? Time to roll your sleeves so you can roll the little balls away!
Butter, Garlic & Bread Love
Grab a little cube of cheese and tuck it in a small piece of dough, roll it between your hand to form a ball. Repeat until done.
Your cheesy delicious and most appetizing pull apart bread is almost ready. Patience!
I love the last part before putting it in the oven: Melt some butter, add some olive oil, minced garlic, and chopped parsley and now brush away on top of the bread. It's not even baked yet and it smells amazing.
Once out of the oven, it is so very hard to wait for it to cool down before pulling that first bite with the warm cheese inside!
Be right back I went to make another batch!
On a healthier note, you can make this delicious kale salad or this roaster veggies salads this summer!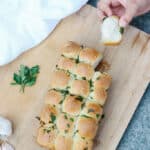 Print Recipe
Most Appetizing Cheesy Pull Apart Bread
Cheese and garlic pull-apart bread is your new addition to your repertoire, easy to prepare: picnic, appetizer, potluck or BBQ with friends!
Equipment
KitchenAid Stand-up Mixer
Ingredients
¾

cup

warm water

1

pack

yeast

11g

2

teaspoon

sugar

granulated

¼

cup

olive oil

½

cup

milk

2%

1

teaspoon

salt

3 and ½

cup

flour

1 and ½

cup

cubed cheese, I choose cheddar

200g

2

teaspoon

butter, soften

2

tablespoon

olive oil

3

cloves

garlic, minced

1 or 2

tablespoon

parsley, finely chopped

to taste
Instructions
In the bowl of your stand-up mixer, pour the water, add the yeast and sugar. Mix well.

Let it rest for 10 minutes or until a foam has formed.

Using the hook, turn on your stand-up mixer, add the oil, salt and the milk.

Add the flour one cup and the time while the mixer is on. (I used it at speed 6)

When your dough is no longer sticky, leave the mixer on for another 5 minutes.

Stop the mixer and allow to rest for 20 minutes. The dough will almost double in size.

Pre-heat the oven at 325F.

In the meantime, cut your cheese in cubes, if it was not already done.

In a ramekin, put the butter and melt it in the microwave (10 sec will suffice), then add the olive oil, garlic and parsley. Mix well. Set aside

Now that your bread has raised, take some dough in your hand and tuck in a cube of cheese. Your ball should not be bigger than a ping pong ball.

Repeat until your have not more bread and cheese.

Take your ramekin with butter, with a brush, brush your butter/olive oil mix on the bread.

Bake in the oven for 25-30 min or until the bread is golden.
Nutrition
Calories:
1609
kcal
|
Carbohydrates:
178
g
|
Protein:
48
g
|
Fat:
78
g
|
Saturated Fat:
26
g
|
Polyunsaturated Fat:
7
g
|
Monounsaturated Fat:
41
g
|
Cholesterol:
95
mg
|
Sodium:
1774
mg
|
Potassium:
485
mg
|
Fiber:
7
g
|
Sugar:
8
g
|
Vitamin A:
1633
IU
|
Vitamin C:
9
mg
|
Calcium:
733
mg
|
Iron:
12
mg