Roasted Carrots And Potatoes recipe is a simple way to prepare a delicious side dish. Easy to put together these vegetables are seasoned with rosemary, garlic, and lemon. It's a delicious way to complement your main dish whether it is fish or meat.
Mainly carrots and potatoes, there is also a parsnip, onion and garlic. You can prepare it all year round as root vegetables are easily accessible. The added flavours with the rosemary, garlic and lemon will enhance this simple side dish.
BONUS: Kids can help prepare this recipe, they often love peeling carrots or cutting them. Make sure to be safe but let them in the kitchen with you, this is a great way to have them be more adventurous and try everything that is offered on the table. You know I'm big on that! :)
How To Prepare It?
Even basic recipes deserve an explanation and a breakdown of the steps. Preheat your oven ahead of time while you are prepping your veggies.
First, wash your vegetables well. This is a very important step and it is often rushed. Don't neglect cleaning these babies.
Next, take your knife and chopping board and get busy. Try to cut the vegetables about the same size for cooking uniformity. Otherwise, some will be mushy because there will be overcooked and some will be a little too hard because they did not get enough time in the oven.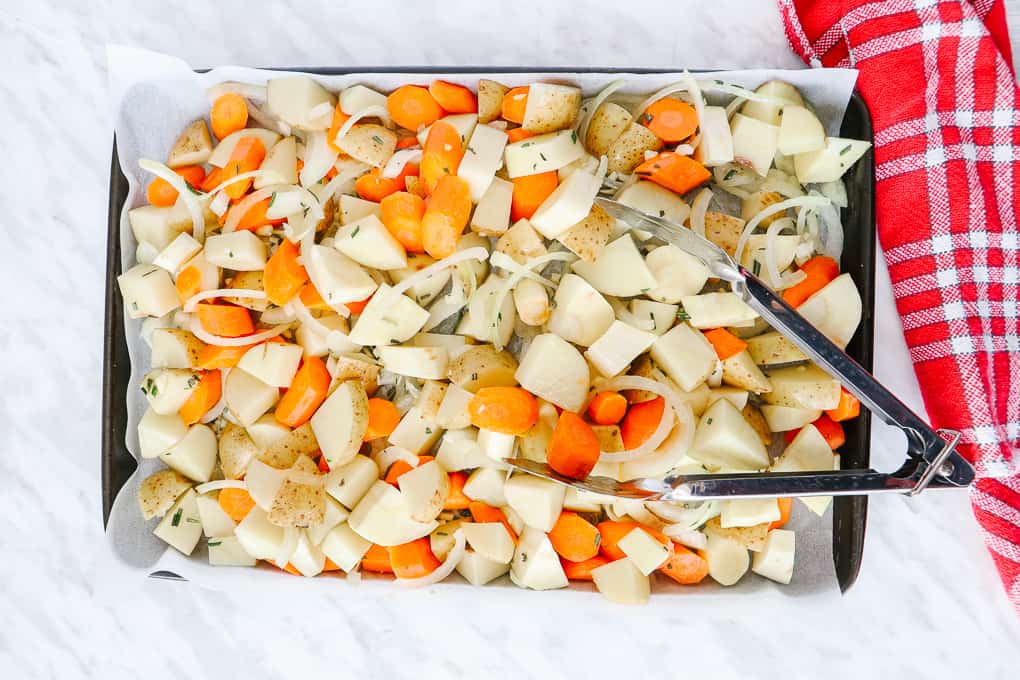 To peel or not to peel? I generally don't peel my potatoes, that is a personal preference. You can do so if you wish. I also don't do it because it is a time-saver, in that case, do give extra attention to cleaning your potatoes. However, I do peel the carrots, it's quick enough.
Spread them evenly on the baking sheet. Sprinkle some salt and your flavoured olive oil (see recipe below) and toss well.
How Long To Roast Your Vegetables?
Cook them for about 40 minutes. However, I always put the timer once or twice to toss the vegetables around. Depending on your oven and its strength, this would be an appropriate time.
With a knife or a fork, poke the vegetable to make sure there is al dente!
If you decide to include other vegetables, like I did with the parsnip, make sure it is a vegetable that would take about the same length of cooking. Otherwise, consider adding the vegetables later or doing another batch altogether.
Can I Freeze A Batch?
Absolutely! Your future self will thank you. Once cooked and cool down, transfer it into a container and freeze it.
When you want to take it out of the freeze, thaw it in the fridge overnight or half a day before. Cook it in the oven at 450F for 5-10 minutes. I'm not a fan of reheating in the microwave in this situation, I find the veggies to lose some of their crunchiness and be soggier.
About The Seasoning...
I choose to mix garlic, lemon and cilantro to add more flavour to your vegetables. Drizzle the mix as soon as it gets out of the oven and toss. The lemon with potatoes as the Greek do it is the way to go for your potatoes (as per hubby, who does not consider potatoes without lemon anymore!).
Also, rosemary because herbs add a beautiful fragrant to the roasted vegetables.
What to Serve With It?
The beauty of this simple side is its versatility. This is perfect on the side of meat or fish, as a side for brunch or using it as leftovers in a salad.
More Delicious Side Dishes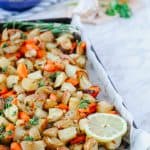 Print Recipe
Roasted Carrots and Potatoes
Roasted Carrots And Potatoes recipe is a simple way to prepare a delicious side dish. Easy to put together these are seasoned with rosemary, garlic & lemon.
Equipment
Cutting board

Oven baking sheet
Ingredients
4

carrots

medium size

1

onion

7

potatoes

medium size

1

parsnip

5

tablespoon

olive oil

3

garlic cloves

2

branches of rosemary

fresh

1

branch of cilantro

salt

to taste

½

lemon
Instructions
Wash all the ingredients properly. Preheat the oven at 450F.

Peel your carrots, cut them. Chop your onion. Place them on the baking sheet.

In a ramekin, pour 4 of your olive oil tablespoon, chop finely the rosemary. Add to the olive oil.

Chop 2 of your garlic cloves and add them to your olive oil.

Pour it on your cut vegetables, add salt (generously) and toss well. Place in the oven for 40 minutes, toss half way.

In a small food processor, add your cilantro, lemon juice from the lemon, the rest of the olive olive and garlic and pulse.

Drizzle with your seasoning mix! Enjoy!
Nutrition
Calories:
514
kcal
|
Carbohydrates:
83
g
|
Protein:
9
g
|
Fat:
18
g
|
Saturated Fat:
3
g
|
Polyunsaturated Fat:
2
g
|
Monounsaturated Fat:
13
g
|
Sodium:
71
mg
|
Potassium:
1981
mg
|
Fiber:
13
g
|
Sugar:
9
g
|
Vitamin A:
10237
IU
|
Vitamin C:
94
mg
|
Calcium:
94
mg
|
Iron:
4
mg
Did you make it? Share it and tag me on Instagram @bonappeteat