A delicious marinated pork shoulder, packed with flavours cooked on low for hours and you get this Cuban-style oven roast: puerco asado. Expect it to fall apart as you cut it because it is so moist and tender.
This recipe is an all-time favorite and is regularly on the menu. Just a marinade to prepare the day before and bath your pork shoulder overnight in it. The next day, the meat is cooked low in the oven for a few hours.
Since Hubby is Cuban, I got to discover so many Cuban dishes and I have shared a few here. How about a Cuban dessert with pantry items? Yes, Cuban flan is the answer. We also love garbanzos fritos and picadillo, easy dishes to prepare on a weekday.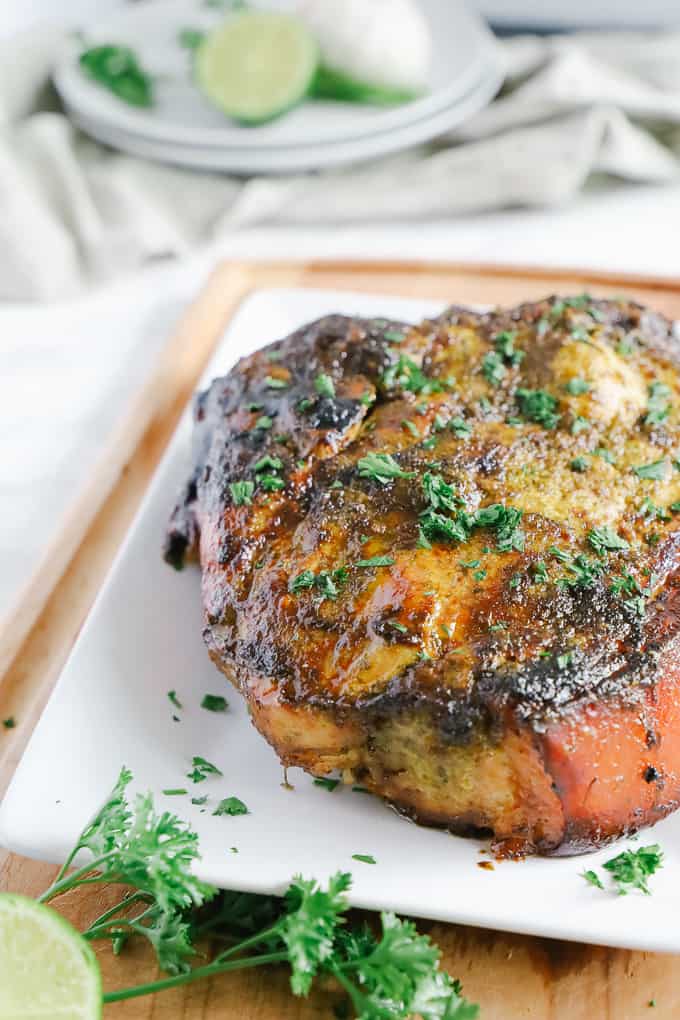 What Is Puerco Asado?
Puerco Asado in English means pork roast.
Puerco Asado is a dish present in many Latino recipe repertoires such as Mexican, Dominican but also Cuban. Like every dish, everyone (or country) has their own version, this is one is ours and it will be yours too! You may have heard of pernil or lechon asado which are similar dishes but different meat cut.
This Cuban pork roast is a pork shoulder slowly cooked skin-on and bone-in. The marinade is mojo sauce with mainly citrus and garlicky but also some cilantro and a few spices. Cuban mojo can be used also on chicken, shrimp, and of course pork.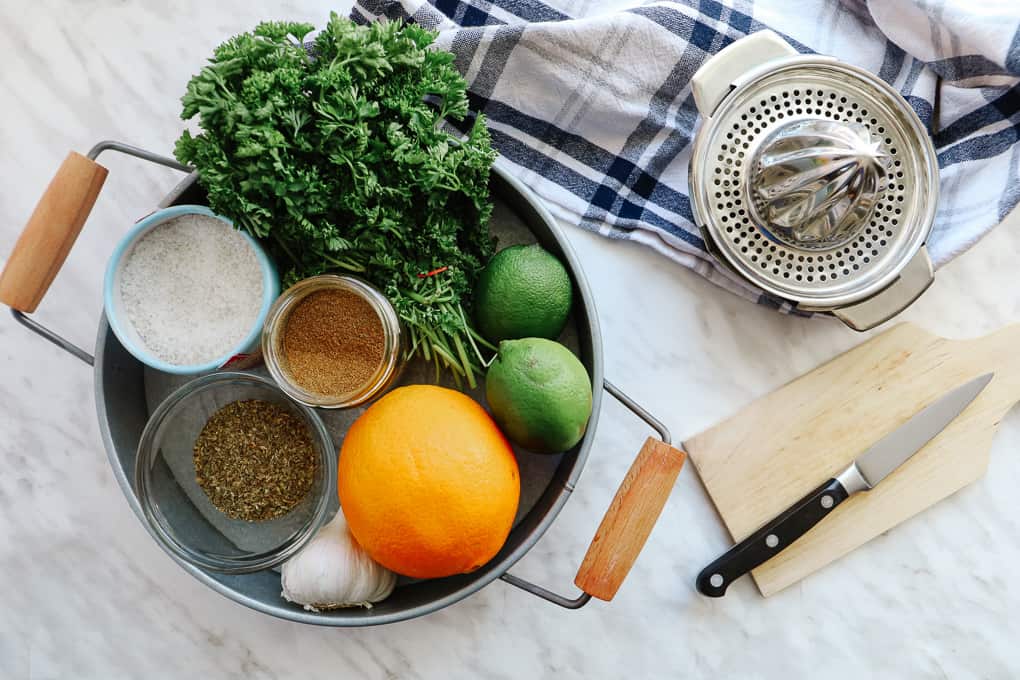 How To Make Puerco Asado?
The 2 main steps of preparing Puerco Asado are making the marinade or mojo and cooking it. That's is all there is to it. The prep time is minimal.
The mojo is citrus and garlicky marinade. There is some orange and fresh lime juice, parsley, olive oil, garlic, some cumin, and oregano. Of course, don't forget some salt.
Side note: I prefer to juice myself the orange or lime, some store-bought orange juice may have added sugar.
Blend everything, pour it over your meat and let it rest for at least 6 to 8 hours. Ideally, you want to do this a day ahead and marinate your meat a good 12 hours, a maximum of 18. You don't want your meat to become mushy either.
The longer the meat is bathed in the Cuban mojo, the more it will break down the meat. This is perfect when you will cook it, it will be like pulled pork.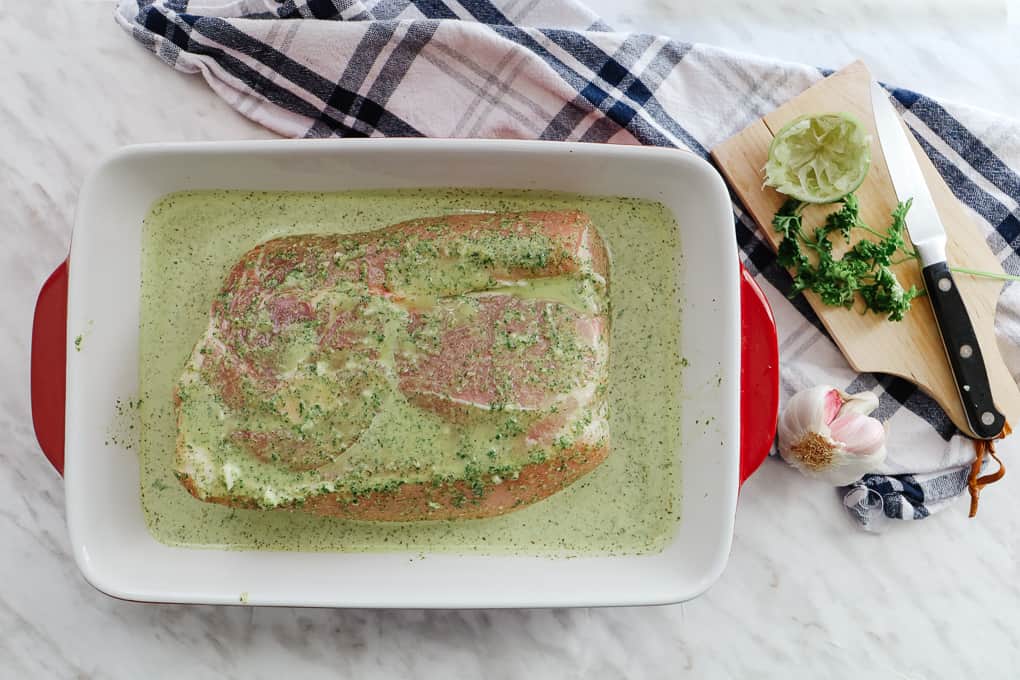 Cooking: Over 3 hours on a low oven, the meat cooks slowly with all the flavours. I use my cast iron dutch oven and lid off. You will obtain a moist delicious and tasty pork.
I tried the recipe with the lid on, the pork shoulder cooks nicely and the meat falls off the bone as well but the meat does not brown and crisp the same. Lid off is my choice.
What Is The Best Cut For The Cuban Style Pork Roast?
A pork shoulder is a great cut for this recipe. Bone-in and all the fat on, this is what gives more flavour. You'll get a juicy and tender meat with all the bold fragrance of the marinade.
Bone-in is the way to go to prevent the meat from drying and keeping all the flavours in. It also happens to be cheaper.
A boneless pork shoulder will work too. A pork leg could do it for this Cuban style roasted pork recipe although the Dominican would call it pernil or pernil de cerdo. There are several Latino variations to this slow-cooked pork recipe.
What To Serve With Cuban Pork Roast?
Whether you are hosting a get-together or a family dinner, feel free to present your pork already cut.
Often served for a family celebration, parties, or Christmas, Puerco Asado is served with Cuban rice, plantains, some salad, and my favorite, some yucca.
Some easy side dishes to accompany your Cuban-style pork roast:
If you are feeling the Cuban atmosphere and want to make more recipes, try these: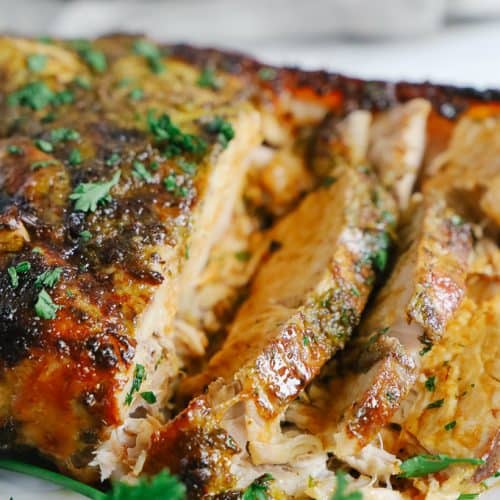 Print Recipe
Cuban Puerco Asado
A delicious marinated pork should, packed with flavours cooked on low for hours and you get this Cuban-style oven roast: puerco asado.
Ingredients
Marinade
1

cup

cilantro

washed, grossely chopped.

¼

cup

olive oil

½

cup

orange juice

½

cup

lime juice

6

cloves

garlic, peeled

1

tablespoon

oregano

1

tablespoon

cumin

1

tablespoon

salt
Meat
3 to 4

pounds

pork shoulder, bone in
Instructions
The day before
Place the pork shoulder in a shallow dish.

In a blender, put all the marinade ingredients. Pulse until all the ingredients are pureed.

Pour over the meat, evenly. Cover with a lid or food wrap.

Refregirate for at least 6-8 hours or ideally overnight.
The next day
Pre-heat the oven at 300F.

Once your oven is at temperature, take your meat out of the marinage and place it in a cast iron without the lid.

Cook for 3 and a half hours. if you have a meat thermometer, make sure it reaches 145F. In doubt, leave it another 20-30 minutes, it's slow and low, it won't dry.
Nutrition
Calories:
232
kcal
|
Carbohydrates:
4
g
|
Protein:
21
g
|
Fat:
14
g
|
Saturated Fat:
4
g
|
Polyunsaturated Fat:
2
g
|
Monounsaturated Fat:
8
g
|
Cholesterol:
70
mg
|
Sodium:
954
mg
|
Potassium:
443
mg
|
Fiber:
1
g
|
Sugar:
2
g
|
Vitamin A:
200
IU
|
Vitamin C:
14
mg
|
Calcium:
41
mg
|
Iron:
2
mg
Did you make it? Tag me on Instagram @bonappeteat.
This post contains affiliate links. As an Amazon Associate, I earn from qualifying purchases.